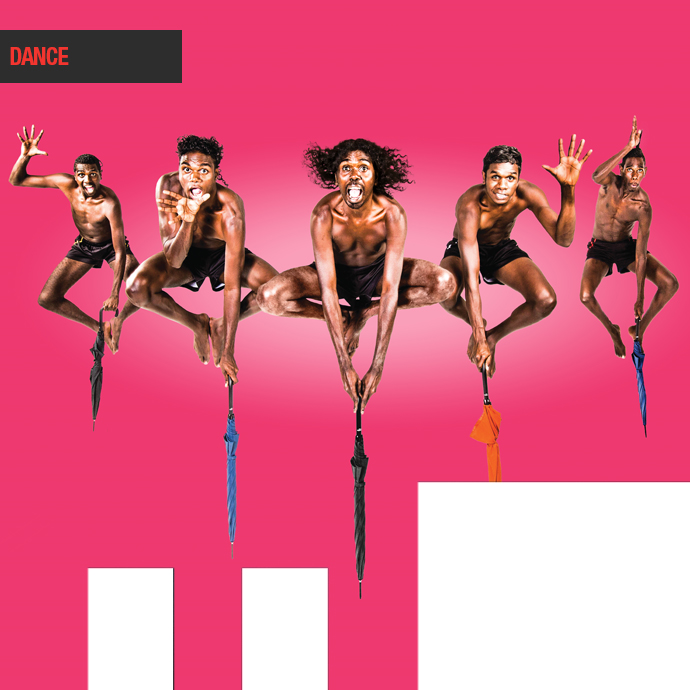 Djuki Mala
Djuki Mala
Venue:
Showplace Performance Centre: 290 George St N, Peterborough
Performances:
Date: February 5, 2019
Time: 7:30 pm
Curated by Patti Shaughnessy
Q&A immediately following the performance
Unique, infectious, high-energy exuberant, fusing traditional Yolngu, pop culture, dance storytelling to create work that is a marvel of timing, comedy & clowning, with a hefty dose of heart and soul! If there is one show that is guaranteed to leave you feeling genuinely happy then this is it! Djuki Mala have toured Australia and Internationally including sell out shows at Perth, Sydney Opera House and Edinburgh Fringe Festival!
Best Dance Adelaide Fringe 2015 & FRINGE WORLD 2017.
West Australian Arts Editors Award 2017.
"No better offering at this year's Fringe" ★★★★★ West Australian
"Joy enhancing, inspiring, enthralling, thrilling, intoxicating" ★★★★★ Upside News
"Their sheer joy is as infectious as it is delightful" ★★★★ The Advertiser.
"Cheeky, fun, feel-good" ★★★★ Sydney Morning Herald.
Sponsored by:
Lett Architects
Monkman Gracie and Johnston Insurance Brokers
Photo: Sean Young Photography