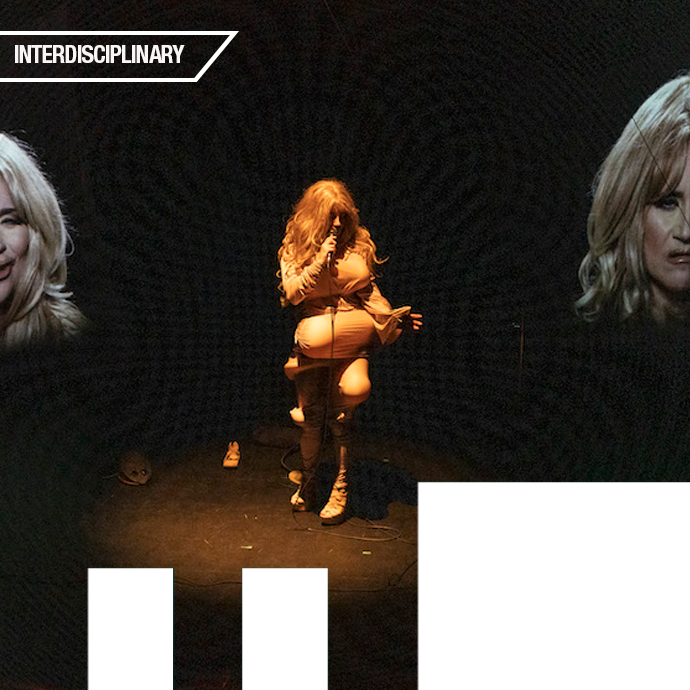 Alexis O'Hara (Montreal): OUFF
CLICK HERE THE VIEW THE SHOW PROGRAM
Market Hall Performance Centre (140 Charlotte Street, Peterborough) and by livestream
March 24th, 2022
7:30 PM
Show length is 75 minutes
Curated by Patti Shaughnessy
Mature content advisory: This performance is recommended for ages 12+
Not ready to come to the theatre? Or out of town?
The show is being simultaneously streamed live through Market Hall. The stream will be available to watch until March 31st. If you missed it live, you can still buy tickets here (Available to purchase from March 25th-31st.)
COVID safety precaution: Masking is required of all audience members. Physical distancing is not in place, and proof of vaccination is no longer required. Concessions will not be available at this performance.

Tickets:
Tickets will be sold on a sliding scale beginning as low as $0. Being aware that this is a time of particular financial difficulty for many, and with a goal of eliminating cost as a barrier to attending the performing arts, Public Energy is instituting a pick-your-own-price policy for this event.
OUFF is the first scripted solo performance by transdisciplinary artist Alexis O'Hara, in close collaboration with artist and designer Atom Cianfarani, whose sets and costumes belie the spurious neutrality of so-called white, in reality an entitled blond, the unhealthy beige of a dirty bandage, a swollen blue-white, a faux-bronzed ecru or a tipsty old pink. The project broaches the dangerous traps of wokeness, the urgency to adapt and evolve and a conscious awkwardness that still aspires to grace.
OUFF is the heaviest of sighs, a stale exhalation, the noisy forced eviction of obsolete molecules. An interdisciplinary work composed of words and sounds, a mutant body and a set that upstages the diva, OUFF is a spectacle of confrontation by a solitary but fragmented femme who, exploiting her own role of victim and victor, pawn and princess in a world which, at the precipice of collapse, decides to go shopping in a world supported by the violent domination of whiteness.
"Set in an unsafe place between satire, observational comedy, and scathing social commentary, OUFF makes us laugh, contemplate and cringe a little as an audience, not quite sure we're in on the joke or even want to hear the kernels of truth that make it work." – Robyn Fadden writing for the culture website Bible Urbaine.
About Alexis O'Hara Alexis O'Hara is a transdisciplinary artist whose work comprises elements of cabaret, pop music, spoken-word, stand-up comedy, vocals and electronics, drag, photography and installation. The eclecticism of her work attracts international programmers from various disciplines. She has presented work in Scotland, Austria, Mexico, Germany, Belgium, France, England, Ireland, Slovenia, Australia, Finland, Denmark, Brazil, Monaco, Serbia, Switzerland, the U.S. and across Canada. She lives and works in Montreal.
Noise School for Feminists: A sound production workshop with Alexis O'Hara
Friday March 25th from 2:00 – 6:00pm
Sadleir House Lecture Hall
Alexis will lead artists in a workshop designed to approach live and recorded sound production from a creative and collaborative standpoint.
For more information and tickets:  click here