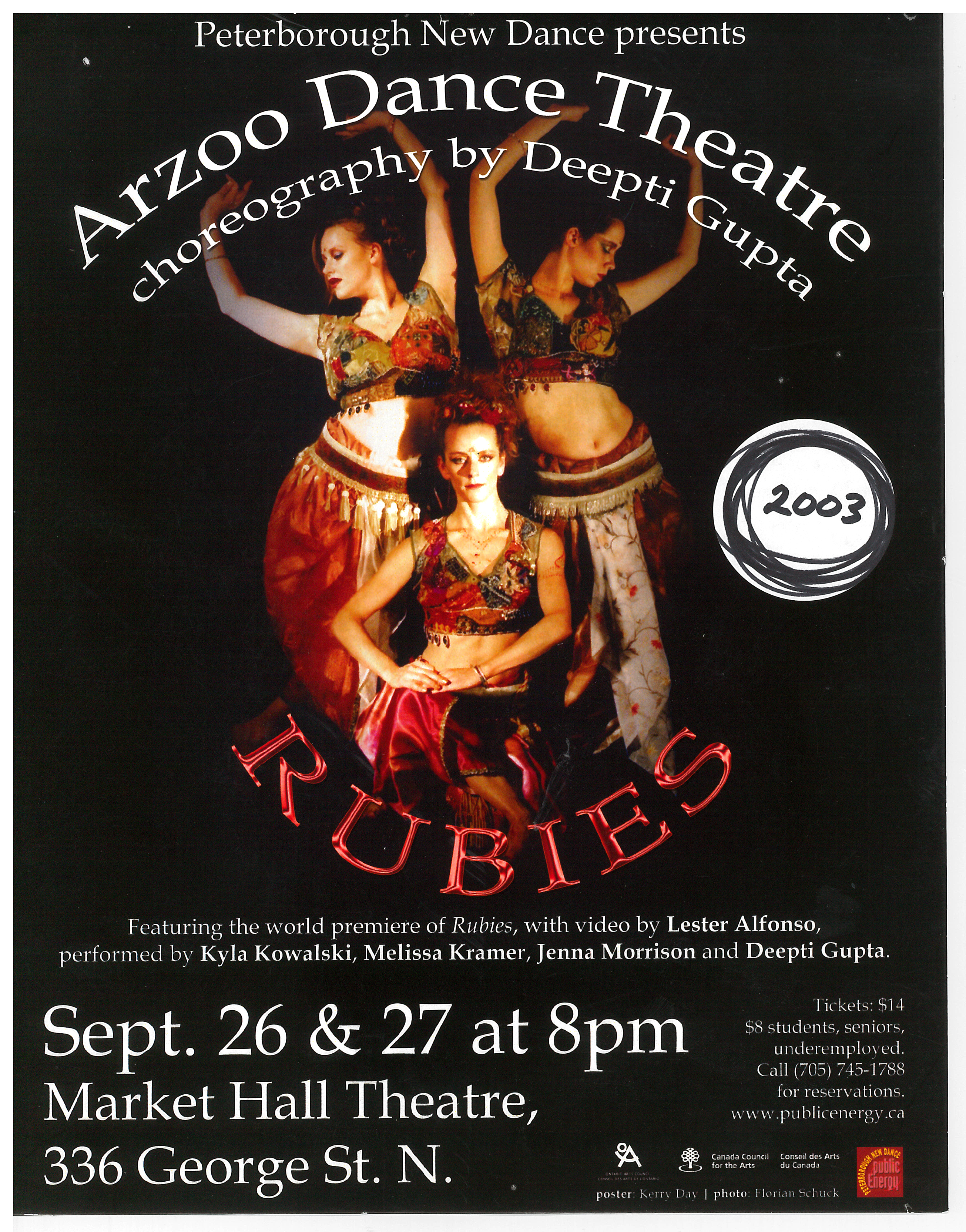 Arzoo Dance Theatre: Rubies
September 26 & 27, 2003 @ 8PM
Market Hall Theatre, 336 George St. N
Tickets:
$14 / $8 students, seniors, underemployed
To reserve call 705 745-1788
PETERBOROUGH NEW DANCE PRESENTS
Arzoo Dance Theatre 
with Deepti Gupta's new multidisciplinary dance work
Deepti Gupta , one of Canada's foremost South-Asian dance artists, has chosen Peterborough as the place for the world premiere of her groundbreaking new multidisciplinary dance work, Rubies , created in collaboration with videomaker Lester Alfonso. Also on the program will be a solo performance by Gupta in Kathak, a classical dance form of northern Indian in which Gupta is a world-renowned expert.
"Gupta brings together dance, set, costume, and score in a highly organic way…(she) firmly establishes herself as a choreographer with a distinctly original contemporary voice." Dance Connection Magazine
Performed by Gupta and her company of three specially trained dancers, Rubies fuses the traditional with the modern to create a truly 21st century performance. Video projection, techno rhythms and modern dance are combined with the dance and music associated with Chhau, an ancient martial art native to the eastern Indian province Orissa. Traditionally used for training male warriors, Gupta's pioneering technique for training women in Chhau has resulted in Rubies, a work that uses the earthy, vibrant vocabulary of the form to express feminine strength, beauty and divinity.
The original video component of Rubies has been created by Lester Alfonso, an award winning video and digital media artist known for his experimental non-fiction films. His film Trying to be Some Kind of Hero earned him the award Best New Moviemaker at the 2002 Optic Nerve Film Festival in Peterborough.
Following its Peterborough performances, Rubies will be presented at Toronto's Harbourfront Centre Theatre one of Canada's most prestigious contemporary dance venues.
Friday, September 26 & Saturday, September 27, 2003
Market Hall Theatre
336 George St. North
call 745-1788 or email for more information
Artists
Company