The Book of Judith
Public Energy presents


Self-Conscious Theatre
January 21, 2012 @ 7:30PM
& January 22, 2012 @ 11:00AM
Market Hall, 140 Charlotte St.
Tickets:
$18; Students/Seniors $12
Co-creators: Michael Rubenfeld & Sarah Garton Stanley
Writer: Michael Rubenfeld with Sarah Garton Stanley
Director: Sarah Garton Stanley
Music: Andrew Penner
Performers: Michael Rubenfeld, The Book of Judith Choir, Judith Snow
Musical Director: Susan Newman
Public Energy presents
Self-Conscious Theatre
The Book of Judith, created by Michael Rubenfeld and Sarah Garton Stanley, is a musical play about Matthew Goldberg, a self-anointed preacher, who is driven to change the lives of others without actually understanding the true nature of change.
After a chance meeting with artist Judith Snow, a woman with quadriplegia, Matthew believes he has "seen the light" and been transformed.  Matthew is now embarking on an unstoppable attempt to show everyone else "the light" and heal the world by sharing his story of meeting and loving Judith Snow.  With the assistance of an
integrated choir, comprised of local singers with and without disability, Matthew attempts to convert the audience (and choir) by preaching his Book of Judith, containing what he believes is the wisdom of Judith Snow.
The Book of Judith is a story about courage, love, ignorance, and the very real possibility of transformation.  This is Matthew Goldberg's story of Judith Snow.
"This is not the world that I would have designed" – Judith Snow
"It is a socially minded, soul-mending public spectacle of the stand-up-and-shout variety and, at the risk of sounding more of a cheerleader than critic, I encourage you to see this and to lend to its charming crusade your own energy. You never know: miracles happen every day."
– Eye Weekly (Toronto)
Elizabeth Bower reports in the Examiner
Book of Judith Choir
rehearsal photos

Sopranos:L-R, B.Snow Manning, Emma Turnball, Kate Story, Emily Caddigan, Tammy Woolman

Altos: Stephanie Benn, Carrie Hoskins, Deb Renyolds, Lisa Schmor, Jill Walker

Tenors: John Hoffman, Holly Bennett, Karen Hoffman, Jason King

Baritones: Rob Fortin, Ray Barker, Max Price, Colin MacAdam, Connor Loftus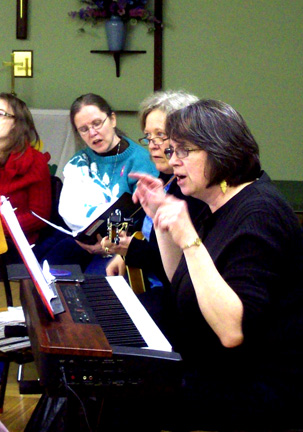 Musical Director Susan Newman

Choir Manager & Alto: Di Latchford
Co-creator/Director: Sarah Garton Stanley

Co-Creator/Performer: Michael Rubenfeld
The Book of Judith Choir