The Party Ball
Venue:
Market Hall Performing Arts Centre: 140 Charlotte St, Peterborough
Performances:
May 25, 2019
8:00 pm
Event Photographs:
The P(art)y Ball Afternoon Pop-Ups
The P(art)y Ball Mainstage Show
The P(art)y Ball Afterparty
Event Information:
Celebrate 25 provocative years with Public Energy Performing Arts!
Party with the past as we bring 25 years of performance history to life with a star-studded performance lineup that features artists from every era of Public Energy's history. With prizes and special guests, Peterborough's newest art party will be a chance to celebrate the past, present and future.
Schedule of Events: May 25th, 2019
Free AFTERNOON POP-UPS
SPONSORED BY Downtown Peterborough (Peterborough DBIA)
THE P(ART)Y BALL RAIN UPDATE:
In spite of the rain, all outdoor pop-ups are currently planned to go on as scheduled. Please dress to stay dry and comfortable!
Because of the chance of thunderstorms we may need to relocate or cancel performances for safety reasons in the hours ahead. If that is the case we will post these changes on our website and social media as soon as the decision is made, so be sure to check in before you head to the show.
Thanks for your understanding, see you at The P(art)y Ball!
Transcendence
Choreographed by Bill Coleman, performed by an ensemble of 30+ community members
WHEN: 12:00 pm
WHERE: Saint John's Anglican Church, Hunter Street side,
(corner of Hunter and Queen Streets)
Thirty community members will perform in this exciting new outdoor dance piece.
In case of thunderstorms, Transcendence will be moved to the Peterborough Square
UKTI
Performed by Mithila Ballal & Ensemble
WHEN: 1:00 pm & 4:30 pm
WHERE: Peterborough Square Atrium (lower level, bottom of the escalators)
A celebratory performance of classical Indian dance and Bollywood.
Served: Counter Culture
Performed by Naomi Duvall, outside eye Anne White
WHEN: 1:30 pm & 4:00 pm
WHERE: Peterborough Square Food Court
A performance of female shapes from classical paintings and experiences from the serving industry.
Elements: Air and Water
Performed by Jennifer Elchuk (Opal), Kayla Stanistreet, Nicole Malbeuf
WHEN: 2:00 pm & 3:00 pm
WHERE: Millennium Park fountain (corner of King & Water
Streets)
An aerial silk performance celebrating the elements of Air and Water.
In case of thunderstorms, Elements: Air and Water will be cancelled
CRUTCH
Performed by Wes Ryan, accompanied by Patrick Walsh
WHEN: 2:30 pm & 3:30 pm
WHERE: 172 Simcoe Street (The alleyway next to Buck or Two
Plus just west of George St.)
This duet between a dancer and his crutches acts as a farewell to trauma and addiction. Mature content.
EVENING PERFORMANCE
VIP MEET & GREET
SPONSORED BY WILTON WINE CONSULTING
WHEN: 6:30pm
WHERE: Market Hall, 140 Charlotte Street
TICKETS: $75, includes mainstage show (markethall.org/705-775-1503)
Meet the artists
The P(art)y Ball Photo Booth. Have your photo taken on the Market Hall stage by Peterborough's preeminent art photographer, Wayne Eardley. Optional: your photo taken with a P(art)y Ball artist!
Gourmet snacks and drinks from Peterborough's finest caterers.
Best seats in the house: Cabaret-style table seating.
Live music with Peterborough's foremost jazz pianist Rob Phillips and bassist Christopher Panis.
PRE-SHOW PERFORMANCE
WHEN: 7:30pm
WHERE: Market Hall Stairwell, 140 Charlotte Street
Join us in the Market Hall stairwell for a performance by Anandam Dancetheatre
MAINSTAGE SHOW
WHEN: 8:00pm
WHERE: Market Hall, 140 Charlotte St
TICKETS: $25 / $75 VIP (markethall.org / 705-775-1503)
Party with the past as we bring 25 years of performance to life with a star-studded lineup featuring artists from every era of Public Energy's history.
Featuring:
Evelyn Hart & Bill Coleman, Cherish Violet Blood, Debra Brown, Deepti Gupta, Ryan Kerr & Kate Story, Nicole Malbeuf, Old Men Dancing, Nimkii Osawamick & Bryden Gwiss Kiwenzie, Wes Ryan
FREE LATE NIGHT PARTY
THE AFTERPARTY
SPONSORED BY MASI WINES
WHEN: 10:00 pm – 1:00 am
WHERE: The Theatre on King, 171 King St
Veejay Lester Alfonso will remix 25 years of dance and theatre video from our archives to create astounding visuals for the dance party.
Pyrotechnic performance by The Peterborough Academy of Circus Arts.
Deejay Helen-a will spin vinyl from all eras of music to take the event into the wee hours.
Artists performing at the P(art)y Ball:
Anandam Dance Theatre, Cherish Violet Blood, Debra Brown, Deepti Gupta, Evelyn Hart and Bill Coleman choreographed by James Kudelka, Ryan Kerr and Kate Story, Nicole Malbeuf, Old Men Dancing, Nimkii Osawamick and Bryden Gwiss Kiwenzie, Wes Ryan
Anandam Dance Theatre will reprise its site-specific work Divergent Dances Peterborough which was first performed on the outside of Peterborough Square during Artsweek in September, 2018. This work is being reimagined for the Market Hall's main staircase by its choreographer, Brandy Leary, with collaborators from Peterborough's busy circus arts community, Thomas Vacarro and Jen Elchuk, among others tbd.
Cherish Violet Blood (Blackfoot) will perform her powerful monologue Be a Babe. Cherish's wide ranging career as an actor, musician and writer has taken her around the world, including appearing as Annie Cook in the Peterborough production of Rez Sisters in 2009.
Debra Brown will bring us some new circus-dance acts we've never seen. Debra, who won an Emmy for her choreography on the 74th Academy Awards and is known around the world as the original choreographer for Cirque du Soleil, has a secret contemporary dance career. That's what brought her to Peterborough with Apogée, a work co-commissioned by Public Energy as its first ever presentation in 1994!
Deepti Gupta, one of Canada's most innovative South Asian choreographers, will perform her solo Kathak dance Static, with video by Peterborough's Lester Alfonso. Deepti's most recent appearance with Public Energy was with the world premiere of her newest work Snowangels, in 2018.
Evelyn Hart and Bill Coleman will perform a duet choreographed by James Kudelka from Kudelka's full length work Love, Sex and Brahms. Hailing from Peterborough, Evelyn Hart, is the former prima ballerina for the Royal Winnipeg Ballet and continues dancing on international stages. Bill Coleman has been bringing his dance works to Peterborough since before Public Energy was founded, and was the 2018 winner of the most prestigious dance award in Canada, The Walter Carsen Prize. James Kudelka, one of Canada's greatest living choreographers, has had his work presented by Public Energy on numerous occasions, most memorably with his collaboration with opera singer Daniel Taylor in 2006.
Ryan Kerr and Kate Story will remount Snow Day, their hit dance work from the Emergency #11 festival in 2003. Kate and Ryan are probably the most prolific artists working in Peterborough's independent theatre/dance scene, with so many original works to their credit it is hard to keep score. Their most recent collaboration with Public Energy was 2017's hit play-with-song-and-dance, damned be this transmigration.
Nicole Malbeuf, a Peterborough-based aerial artist with Trellis Arts & Entertainment, will perform her newest aerial hoop routine. Nicole has performed her imaginative aerial and circus work with numerous groups in Peterborough, Toronto and smaller circus communities around Ontario. With Public Energy she performed in the 2018 Max's Cabaret and took part in the Alternating Currents development process for new work in 2017.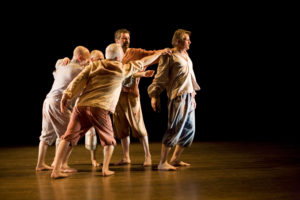 Old Men Dancing will perform a new dance made specially for the P(art)y Ball. This talented group of guys of a certain age got its start through Public Energy in 2002, have had some of Canada's best contemporary dance creators create work for them, and performed as far afield as Toronto and Kitchener-Waterloo.
Nimkii Osawamick (Odawa, Wikwemikong Unceeded Reserve, Wolf Clan), a Peterborough-based singer, hoop dancer and champion Powwow dancer, will perform his powerful, high energy dance accompanied by Bryden Gwiss Kiwenzie.  Nimkii has danced extensively with Indigenous artists, including cellist Cris Derksen's Trio and Orchestral Powwow, and was last seen with Public Energy performing in Kaha:wi Dance Theatre's The Honouring in 2015.
Bryden Gwiss Kiwenzie is a Pow-Wow singer/song maker and Men's Traditional Dancer.  He has grown up on the Pow-Wow Trail learning songs, drum teachings and has been dancing Mens Traditional Style for 30 years.  He is Originally from Neyaashiinigaming (Cape Croker) but currently residing in Sudbury, Ontario.  He works at Shkagamik Kwe Health Centre in Sudbury giving drum teachings to the youth about proper drum etiquette and pow wow songs.

Bryden was also nominated for a Juno, Indigenous Album Of The Year 2017, on his debut album release entitled Round Dance & Beats.  Which fuses Traditional pow wow songs with modern hip hop production. He has also been nominated for Best Hand Drum Album and Best New Artist at the Indigenous Music Awards held in Winnipeg May 19, 2017.
Wes Ryan will perform a new spoken-word piece created specially for Public Energy's 25th anniversary.
Wes's track record with Public Energy is the longest in duration of any artist on the P(art)y Ball program, with more than 15 shows to his credit going back to the very first season. That first PE work was Kitten on a String with Fish Hooks for the Emergency #3 festival; his most recent was The Caregiver, with Becca Partington, in Emergency #22 (2018).
MAIN IMAGE:
Barbara Dametto's The Serpent and the Lotus, Emergency #21
Fractal Animation by Daniel Schmidt
Thanks to The Party Ball sponsors:
PLATINUM:
an Anonymous Donor
(Thank you)
GOLD:
SILVER:
BRONZE:
– Group Benefit Plans and Life Insurance
bbulger@thelifeinsuranceguy.com
Wilton Wine Consulting
Company