Wunderbar
Public Energy and Artsweek present Atelier Ludmila's Wunderbar
September 7 & 8, 2013 @ 3PM

Victoria Park (Water & Brock Streets)
Tickets:
Pay-what-you-can at the performance
Laurel Paluck
Performers
Elizabeth Fennel
Hilary Wear
Janel Jarvis
Kathleen Adamson
Leigh Macdonald
Max Price
Sarah McNeilly
Teresa Macdonald
Wes Ryan
and Guests

Music
The Lonely Parade
Jill Staveley
Glen Caradus
PUCK (Peterborough Ukulele Club for Kids)
with sound by
Spencer Allen
Design
Ateleir Ludmila
Teresa Macdonald
Public Energy and Artsweek present Atelier Ludmila's "Wunderbar", a family-friendly afternoon performance, set among the trees and rolling lawns of Victoria Park. Join our band of merry-makers and follow A Very Great Blue Heron on a roving adventure with youngsters Greta and Hunter, in this fairytale inspired show celebrating children, friendship and the spirit of song. Featuring live music, giant puppets and some rather big and very little surprises along the way.
Atelier Ludmila is a performance-based production house and research lab invested in making art big with the public.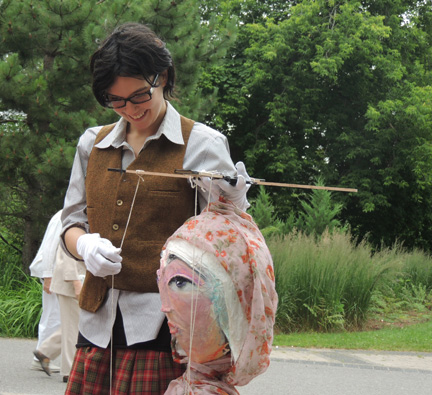 Company