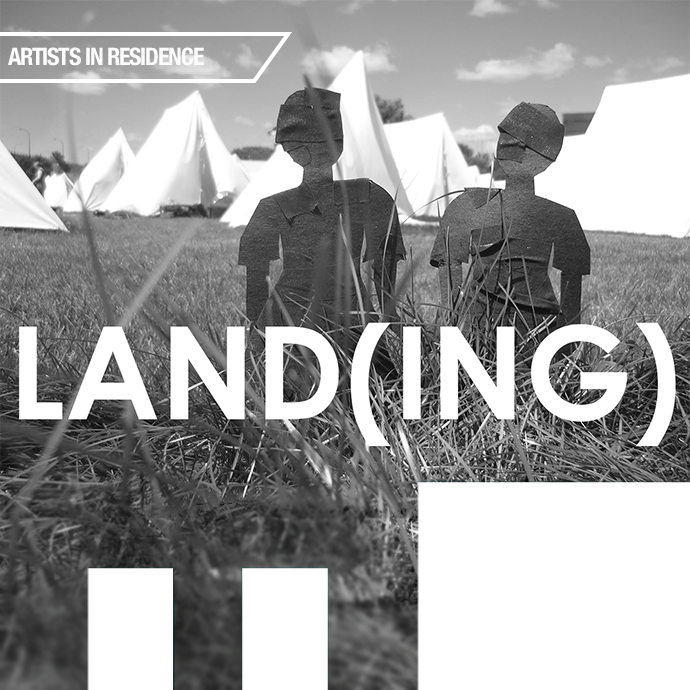 Common Threads Collective
2020-2021 Artists in Residence
with Public Energy Performing Arts
Common Threads Collective is a diverse group of newcomer and non-newcomer artists. The spark for our initial formation was a powerful newcomer story developed and shared by Reem Ali, NCC's Workplace Integration Liaison. CTC's creative process during the Public Energy artistic residency involves designing and delivering workshops in our various fields of expertise, prioritizing newcomer participants, although also open to non- newcomer community members. This work, and the skills and connections forged in the community, will then become the basis for a larger presentation called Land(ing).
Over the course of the residency CTC artists will document the workshops, continually sharing and discussing our creative findings, building a shared vision for the final project. We will explore links between workshop outcomes and the original newcomer story, and discuss possible approaches to animating this story with community participants, using skills and ideas developed during the Public Energy residency.
The Public Energy residency will provide us with creative material and direction, and forge connections between artists and community members, offering invaluable preparation so that we can move into the production stages for Land(ing) with a deep and complex understanding of the communities this project is serving. The residency will culminate in a filmed documentary of the process, and an artist talk.
Photo by Brad Brackenridge
Common Threads Collective Workshops (
Upcoming

):
Common Threads Collective Workshops (Past):
Text As A Design Element In Costume Design
Common Threads Collective
Common Threads Collective is a diverse group of newcomer and non-newcomer artists, Shahed Khaito, Mithila Ballal, Kate Story, Leslie Menagh, Brad Brackenridge, and Peyton LeBarr, as well as Reem Ali who is helping to coordinate the project.  The final public site-specific immersive experience is planned to take place in a courtyard in downtown Peterborough, reimagined as a traditional Syrian courtyard house. Land(ing) – slated for early autumn 2021 as part of the in[SITES] series – will use textile arts, film, puppetry, text, theatre, dance, and community- engaged storytelling, animating the creative basis for the project.
Shahed Khaito is a filmmaker. 21 years old, she came to Canada as a refugee in 2019. Shahed's passion with camera and video editing started in 2013 while she was living under siege with her family in Zabadani, Syria. During that time she began documenting the ways that people reacted to the war in the shelter using a camera phone. She shared the materials on Facebook. Then she started editing using simple mobile applications.
(Show More...)
Shahed fled from Syria to Lebanon in 2014 with her family. In Lebanon, she studied interior design at Rafiq Al Hariri technical school, and completed a 6-month photography/film-making course at Dar Al Mussawir. In 2015 she produced and directed "With the Flow," a film about child marriage exploring topics of power and privilege in female Eastern society. For three years she volunteered as the Media Officer for the Gharsah Center, a school in Lebanon that supports refugees, producing and directing promotional videos documenting the center's work. Shahed produced and directed reports for Women Now, Seenaryo, and the Justice Network for Syrian Women. In 2018 Shahed completed a 2-month course run by Dawlati on digital security and media education. She also attended Action for Hope Film School, learning video editing, script writing, and directing, and worked to document the lives of Syrian women in the refugee camps in Lebanon. She wrote and directed another short film "Live Broadcast," created in partnership with Action for Hope. It has been shown at various festivals in Lebanon and Canada, most recently the ReFrame Film Festival in Peterborough.
Since coming to Peterborough in 2019 Shahed has volunteered at the New Canadians Centre's After School Club; at the Finer Things Show and Sale summer craft show; with the Art Gallery of Peterborough's "Stop Motion Animation" summer camp; and with the New Canadians Centre for their Canada Day event. Shahed graduated from Thomas A Stewart Secondary School. She has been chosen to get the YWCA long term education award of 2020.
Shahed is going to be attending the video design and production program at George Brown College in September to further develop her ability to communicate her ideas about the world through the lens of being a female refugee.
(Show Less...)
Photo of Shahed Khaito by Gwyneth Saranillo. 
Mithila Ballal is a trained Bharathanatyam dancer since the age of 4. She has had the opportunity to learn various dance forms from multiple teachers and Gurus and performed in various platforms in India, USA and Canada. Her passion and love for dance led her to pursue her Masters in Dance/Movement Therapy and Mental Health Counselling at Lesley University, Cambridge, USA in 2010.
(Show More...)
She began teaching dance to children when she was in India and then continued to teach and choreograph dances in USA. She moved to Canada in 2013. In 2014, she began teaching dance to children and adults. In February, 2019 she named her dance school- "Ukti- Centre for Movement and Arts".
In 2019 November, she was selected as a board member of Public Energy.
Apart from being a dance instructor, she also is a Registered Psychotherapist and Dance/Movement Therapist. Mithila works with various populations with mental health issues autism, trauma, anxiety, depression, etc. As a psychotherapist, it has been wonderful to reach out to so many different community resources in Peterborough and provide therapy. It has been a challenge to work as a dance/movement therapist sometimes due to the judgement that comes around the word 'dance'. It has been important for her as a therapist to break it down to simple terms that "breathing is movement". With the support of the community, Mithila, as a dance instructor has had the pleasure to choreograph and perform for various events to showcase the unique art form of Indian dance, including Bharathanatyam in Peterborough.
Emotions and feelings are repressed in many cultures. Mithila is an immigrant, a woman of colour, and has had a lived experience of trauma; she would like to bring an awareness to the emotions that are hidden deep within through trauma-informed movement, expressions, gestures and postures. Therefore, she will be trying to represent the newcomer story to the best of her ability.
(Show Less...)
Photo of Mithila Ballal by Vinay-Viswanathan. 
Kate Story is a writer, performer, director, and choreographer. She is a recipient of the Ontario Arts Foundation's K.M. Hunter Artist Award in theatre, and as part of Peterborough's centennial celebrations she was named one of the region's 100 most important performing artists.
(Show More...)
Artistic director of three month-long multi-arts festivals in Peterborough, A Certain Place: the Bernie Martin Festival and Precarious: Peterborough ArtsWORK Festivals saw Kate work with a wide array of arts and non-arts community partners to deliver workshops, learning and mentorship opportunities for youth, panel discussions, and original performance, music, visual art, literary, and media works. She is the director of Public Energy's Alternating Currents program, for the past 4 years facilitating creative processes for wildly diverse artistic projects. She was also one of the dance artists participating in Neighbourhood Dance Works' exciting New Chapter dance project, bringing together Newfoundland dance artists for an innovative 3- year process with choreographers Christopher House and Anne Troake. Along with Ryan Kerr and Victoria Mohr-Blakeney, Kate co-founded Peterborough DanceWorks with the mission to increase the profile and quality of local contemporary dance; since 2016, PDW has presented 7 original dance works involving 30 dance artists presented at Artsweek PTBO, Precarious Festival, Emergency Festival, and Small Dances for a Small Space; PDW is currently co-hosting a workshop series with dance presenter Public Energy.
Kate has choreographed many original works, including part of the trilogy "sorry about what happened at the mall" (Artsweek, 2019); "Festivus Rattus Rattus 2035" (Precarious Festival 2017); "The Arvo Part Project" (2018); "damned be this transmigration" (Public Energy, 2017), and many more. Her choreographic works – often crossing boundaries between theatre and dance – have been featured in festivals in Peterborough, Toronto's fringe Festival of Independent Dance, and the St. John's Festival of New Dance. Kate has co-created and/or worked with diverse theatre and dance artists, including The Theatre on King, 4th Line Theatre, DNA Theatre, Caravan Stage Company, R. Murray Schafer, Bill James, Chartier Danse, The Nervous System, Ker Wells, and many others. Kate is an active supporter of local arts organizations, serving as vice-chair of Peterborough's arts council the Electric City Culture Council, and chairing the advisory committee and Board of The Theatre on King. She also sits on the Theatre Trent Executive.
Kate's first novel Blasted received the Sunburst Award's honourable mention, and her third novel This Insubstantial Pageant was tipped by the Toronto Star as a top SF pick: "Exotic, funny and very sexy . . ." 2018-19 saw the publication of her first young adult fantasy, the Antilia duology, identified as a best new work for children by the Canadian Children's Book Centre. Her short fiction has been published in World Fantasy Award and Aurora Award-winning collections, and has been shortlisted for the Sunburst Award and the CBC Literary Award.
(Show Less...)
Leslie Menagh is an interdisciplinary artist, craftsperson, community organizer, and curator with a BFA from NSCAD University. After more than 15 years working in the arts and cultural sector, community arts have increasingly become her passion as she seeks out ethical and inclusive ways to build community.
(Show More...)
Menagh has a varied art practice including sculpture and installation, video and sound work, costuming and performance direction. These diverse practices are united by ideas of the textual and the importance of story-telling and creating platforms and opportunities for others to find their own expression. Over the years, she has collaborated to produce performances shown through Public Energy's Wearable Art Show and Emergency Festival. In 2018 she presented Migration Stories. The performance was the culmination of a community arts project wherein participants with varying migration stories publicly performed a choreographed series of movements and the accompanying sound was a collage of their own recorded voices recounting their stories.
Menagh's current creation is Madderhouse Textile Studios where she teaches screen printing, hosts artists-in-residence, and project co-ordinates with other organizations and artists to bring innovative public engagement opportunities to the public. Her ongoing work with the New Canadians Centre has led her to train newcomers with sewing skills to produce and sell textilebased home wares. In 2019 she facilitated a pilot project on the theme "we belong" that engaged newcomers in an effort to translate the sentiment into other languages and screen print the text onto cloth that would become throw cushions, baby blankets, and dinner napkins. Throughout the Covid-19 pandemic, Menagh has been helping to launch a social enterprise called the Newcomer Sewing Crew which is constructing screen printed masks for wholesale purchase while providing ongoing and fairly paid employment to local newcomers.
Menagh is deeply curious about how art and creativity in general can stimulate social change. Her aim is to create opportunities for communities to express their stories via cloth. While running Madderhouse Textile Studios Menagh also acts as curator and juror for local art projects including Peterborough Artsweek's Downtown Artist Residency Program and the Finer Things Show and Sale.
(Show Less...)
Photo of Kate Story, sorry about what happened at the mall, by Andy Carroll. Photo of Leslie Menagh at Madderhouse Textile Studios, by Jess Weitz. 
Brad Brackenridge has been a performer and designer in theatre and film for almost 30 years. Brad is the creator of The Nervous System, a puppet-based theatre company..
(Show More...)
..which has created and produced Komachi on the Shrine (TTOK with composer Kathleen Adamson, 2018); Festivus Rattus Rattus 2035 (Precarious: Peterborough ArtsWORK Festival 2017); Life Comes to Resemble Unimaginative Literature: Or, the Moment of my Death (A Certain Place: The Bernie Martin Festival 2016); VERTEP (Emergency 2015); Murmuratio (Erring, 2014); Terror and Erebus (Artsweek 2013 and remounted in the Otonabee in 2014 and as a solo show at The Theatre on King in 2015); and two separate installations for Luminato. The Encampment, a large-scale public participatory art installation celebrating the Bicentennial of the War of 1812 (coordinated by artists Thom Sokoloski and Jenny-Anne McCowan).
Brad has also created puppets for diverse theatrical productions including Wilde Tales (Shaw Festival, 2017); Robot Triple Launch (bird, buried press, 2017); Jungle Book (Arbor Theatre 2017); These Are Horizon Days (Wes Ryan, 2017); Shadow Walk of Millbrook (4th Line Theatre 2016); No Exit (a Minotaur mask for The Theatre on King's production 2017); Lady With a Lap Dog (Spiel Players); and Berlin Blues (4th Line Theatre). "And there is a marauding buffalo (a puppet manned by three people) that is one of the single most hilarious things I've ever seen on the stage." (Paula Citron, The Globe and Mail July 19, 2011). Recently he designed and operated puppets for Kathleen Adamson's original work Komachi on the Shrine at The Theatre on King.
Brad has studied with the Old Trout Puppet Company and performed in their production The Erotic Anguish of Don Juan. He also studied with Puppetmongers Powell, taking courses in marionettes, and the construction and manipulation of jointed puppets. As an actor, he has appeared in diverse film and theatre gigs, including Harry Wilson in The Pitmen Painters (New Stages/Randy Read); Lucky in Waiting for Godot (The Theatre on King, Beckettfest 2016); Dusk Dances (host Mr. Crumble), damned be this transmigration (Kate Story), Iago in Othello (mysterious entity theatre), Dromin of Ephesus in Comedy of Errors (Canadian Stage; Kelly Thornton) and Stump in the Enchanted Forest (R. Murray Schaefer), and multiple roles with local company Planet Twelve Productions, among many others.
Brad had mentored two emerging artists in puppetry: Naomi Duvall and Samuelle Weatherdon. His most recent work in progress was developed under the mentorship of Julia Aplin as part of Public Energy's Alternating Currents program: Sputnik's Shadow, a moving and hilarious exploration of the first man in space, Yuri Alekseyevich Gagarin, and the space race. Brad is the recipient of the 2018 Peterborough Arts Award for Outstanding MidCareer Artist.
(Show Less...)
Peyton Le Barr is a theatre artist currently based in Peterborough, Ontario. She has been a professional actor for over a decade and has performed in Canada, the UK, and Russia. Today, Peyton co-runs Grassboots Theatre Company, an artist run company that celebrates the human spirit through socially relevant stories.
(Show More...)
Prior to, Peyton co-ran Spiel Players, a Toronto based theatre collective that developed new translations and adaptations of European plays. With a special interest in physical theatre, Peyton continues to perform, direct, and produce independent productions, many of which are connected to her activism and her passion for using art for social change.
As an actor, Peyton has a long track record of performance in the UK including an adapted production of Hamlet at Shakespeare's Globe Theatre where she played the title role. Peyton has also performed in numerous independent and professional projects within Ontario. In 2017 Peyton performed alongside Canada's acting legend Walter Borden in an adapted performance of King Lear on the steps of Toronto's Homeless Memorial during their monthly vigilance to bring a spotlight to the shelter crisis during the extreme cold weather warnings.
In 2017 Peyton was a guest artist at Humber College where she taught site specific performance and has been a guest director at Newfoundland's Stephenville Theatre Festival. As a facilitator, Peyton has developed a number of successful arts programs and continues to develop new ways to integrate the arts into communities. She is currently the Artist-In-Resident at the Kawartha Sexual Assault Centre where she facilitates trauma-informed workshops in storytelling.
In 2016, Peyton was identified as an emerging leading female artist through an Ontario Trillium Foundation grant and received an apprenticeship in artistic direction with Shadowpath Theatre Productions. In 2019 Peyton was awarded a Metcalf Internship with Public Energy Performing Arts where she was the production lead for multiple touring companies and artist residencies. Peyton holds an MFA (with merit) from East 15 Acting School at the University of Essex and a BFA in Acting from the University of Windsor.
(Show Less...)
Photo of Brad Brackenridge, Sputnik's Shadow, by Andy Carroll. Photo of Peyton Le Barr, Repatriation to the Moon, by Andy Carroll. 
Reem Ali is the Workplace Integration Liaison, leading projects at the New Canadians Centre that focus on the economic and social empowerment of newcomers. She also coordinates working groups under the Peterborough Immigration Partnership that focus on refugee and immigrant integration.
(Show More...)
Reem has over 10 years of experience as a community development practitioner working with vulnerable children and women, both locally and internationally. She is interested in exploring issues of identity and belonging and their intersectionality with social justice. Reem holds an MPA from Carlton University and is an active member of several not-for-profit boards and steering committees in Peterborough, Ontario.
In 2018, Reem was a recipient of the Greater Peterborough Chamber of Commerce's '4 Under 40' award. The '4 Under 40' awards are designed to recognize four individuals in our community who are under the age of 40 and who are making their mark in the Peterborough area. Reem was also a recipient of the inaugural Peterborough-Kawartha Women's Leadership Awards in October 2018.
In 2017, as part of an initiative by the New Canadians Centre to document the stories of Syrian refugees, Reem was tasked with interviewing 4 Syrians who had recently arrived to Peterborough, with the goal of helping them reflect on their journeys and provide Canadians with a better understanding of what they've had to endure to get here. One story in particular stood out – that of a young single mother. She was struggling with several mental health issues as a result of her trauma. Her story spoke to intersecting themes that many women face in our societies – whether in Syria or anywhere else. With consent from this participant, Reem transcribed the interview and translated it from Arabic into English, at the same time shaping it into a story.
Working with newcomer women at the New Canadians Centre, Reem is now hoping to share this story with the public in a way that allows for meaningful engagement. As part of her ongoing work, this story will help shed light on the many lives that were changed by the Syrian crisis. As a newcomer and woman of color herself, she hopes that it will also raise awareness about the issues that continue to be shared by many women both locally and around the world.
(Show Less...)
Photo of Reem Ali by Alana Lee Photography. 
Common Threads Collective is working in partnership with the New Canadians Centre.  LAND(ING) is also supported by an independently earned grant from the Ontario Arts Council.