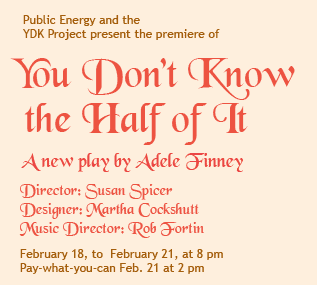 You Don't Know the Half of It
Tickets:
$20/$15 students and seniors.
Available at Showplace – 742-7469 or showplace.org
Set during the tumultuous times of 1971, in Millbrook's own St. Thomas' Anglican Church, You Don't Know the Half of It confronts issues of faith, love, and transformation with depth and humour in this original play by Peterborough writer Adele Finney. A team of veteran Peterborough theatre professionals has been assembled under the YDK Project banner to produce the play's world premiere, including director Susan Spicer, designer Martha Cockshutt and music director Rob Fortin. Susan Newman and Whitney Barris are playing the leads, with real-life Archdeacon Gordon Finney (from St. John's Anglican Church in Peterborough) is playing the Archdeacon of St. Thomas'.
The cast is rounded out with veteran Toronto-based actors Alison Jutzi, Jeffrey Aarles and Brad Brackenridge, joining Peterborough-based actors Dianne Latchford, David Russell, and Hilary Wear, along with youth performers Keegan Plant and Jacob Abrahamse. Some of these artists – Spicer, Newman, Fortin, Barris, Abrahamse – will be familiar to Peterborough audiences from their involvement in Hungry: A Musical Hansel & Gretel, the hit musical staged at Market Hall in 2008.
Significant funding for You Don't Know… was received from The Sacred Arts Trust of the Anglican Foundation and the Ontario Arts Council. "It has been a great joy to see this play evolve over the past seven years and to see it receive the support of The Sacred Arts Trust (The Anglican Foundation) and the Ontario Arts Council," says Susan Spicer. "In the public readings we've held, the response has been incredibly enthusiastic. People respond to the humour, the wisdom and the beautifully drawn characters and relationships whether they've had experience in church or not."
Synopsis of the play: The year is1971. Pragmatic Sarah Bright and cantankerous Hazel Pater, ladies of the altar guild, welcome a new priest and his family to St. Thomas Anglican Church in Millbrook, Ontario. Change is never easy, but when a fire destroys the bell tower, more than ashes and embers are stirred up as pews are removed for new construction. Hazel, Sarah and the people of their church are offered the opportunity to clarify what is dying and what is being born as they deal with unasked for change in their relationships and in their community. Two Presences from the near and distant past and a chorus of parishioners add depth and humour to the choices facing Hazel's and Sarah's friendship.
History of the play: Adele Finney, who has lived in rectories in Elmvale, Kuala Lumpur, Toronto and Peterborough, started work on You Don't Know the Half of It in 2002. Her research comprised extensive investigation of the history of the village of Millbrook, and in particular the parish of St. Thomas Anglican Church, where the play takes place, and where Adele had a personal connection with six of the former rectors, their spouses or children. Looking for a story about the church's response to an outsider, she interviewed many parishioners, including people who knew the two women on whose lives the characters of Hazel Pater and Sarah Bright are based. She also talked with the Reverend Robert and Molly Brow whose experiences coming to the small country parish of Millbrook after years working abroad inspired the characters of the Reverend Will and Jocie Burns. Millbrook's 4th Line Theatre supported the development of the play and in the spring of 2007, Adele asked Peterborough director Susan Spicer to work with her toward a full production. Spicer, who grew up in Millbrook and attended Youth Group meetings at St. Thomas's, has over 25 years of experience in the development and production of new plays. She spent nine seasons with Millbrook's 4th Line Theatre and has directed several works by R. Murray Schafer.
Susan Newman as Sarah Bright
Whitney Barris as Hazel Pater
David Russell as Rev Will Burns
Alison Jutzi as Jocelyn Burns
Archdeacon Gordon Finney as Archdeacon Thomas Allen
Jeffrey Aarles as Saint Thomas Didymus
Rob Fortin as Frank Creighton
Dianne Latchford as Orela Creighton
Brad Brackenridge as Roy Lynch
Hilary Wear as Abby Lynch
Jacob Abrahamse as Nathaniel Burns
Keegan Plant as Rebecca Burns
Susan Spicer is director
Rob Fortin is music director
Martha Cockshutt is production designer
Linda Conway is stage manager
Don White is lighting designer
Kate Story is choreographer